Epidural Steroid Injections
Epidural steroid injections are performed to treat pain caused by disc herniations, spinal stenosis, and/or degenerative disc disease. It can be performed to alleviate sciatica pain. These conditions cause inflammation to the spinal nerves and an epidural steroid injection is performed to reduce the inflammation. The goal is to reduce pain in the neck, back, or pain radiating into the extremities.
At Janerich Pain Specialists, sedation is not required to perform this procedure. An oral medication may be prescribed prior to the procedure to help calm patients. Local anesthesia is used to numb the patient and minimize discomfort. Live x-ray guidance, called fluoroscopy, is used during the procedure to ensure patient safety and proper needle placement. Most patients do not feel pain during the procedure, although they may experience some temporary mild pressure. Patients may return home after the injection. Although every patient is different, pain relief can last months and even years. It can be repeated if necessary to maintain pain relief.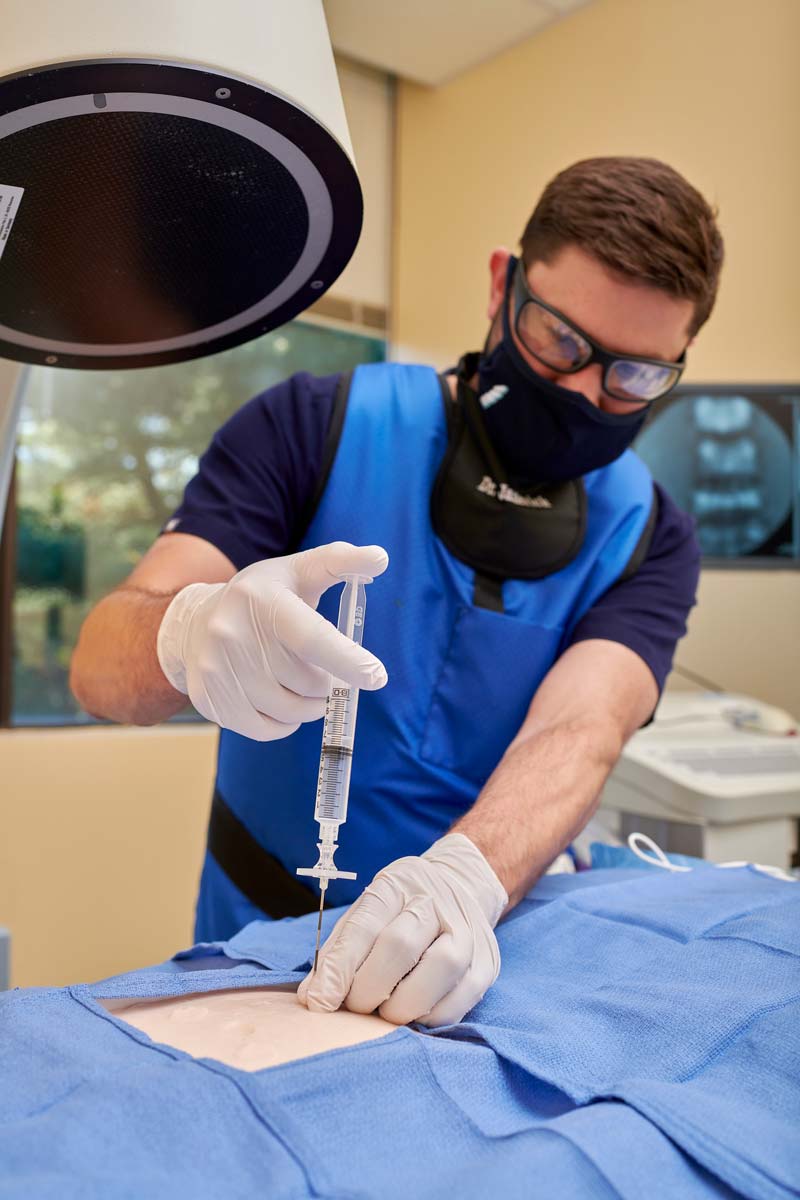 Don't Let Pain Hold
You Back Any Longer
Real Clients...Real Stories
I was recently referred to Dr. Janerich by my podiatrist regarding chronic pain in my knees that I have suffered from for years due to osteoarthritis. I have had pain in my knees since I was 38 years old; I am now 65.
I have tried a multitude of treatments. Among them: Laser treatments, physical therapy, Synvisc injections by an Orthopedic doctor, acupuncture and serious pain pills, along with hundreds of dollars of supplements that promised to turn me into Wonder Woman. [That never happened] No former treatments ever gave me any long-lasting relief. When I saw Dr. Janerich, he gave me something I hadn't experienced in years, "HOPE".
He offered me a nerve block procedure to ease my pain and other options for longer term relief. He was patient and thorough. I never knew there was a bridge treatment between the Synvisc injections and total knee replacements.
So far, the nerve block has been working like a miracle. I may never run a marathon, but I feel so much better. My outlook is positive and I am sure glad I went for this treatment.
Dr. Janerich's staff is friendly and personable. I would recommend anyone to come to this office for pain relief.
— Alice
Approximately 20 years ago, I had a work related injury that resulted in serious injury to both my upper and lower back also affecting my legs. There have been many times that the pain in my legs was so severe that I didn't even think they would hold me up.
After endless visits to chiropractors, acupuncturists and physical therapists I still ended up with limited or no relief. In some cases it actually made my pain worse.
I went to see two surgeons from The University of Philadelphia who told me that I would need several surgery's and even if everything went perfectly I would still only have about 50% relief. They told me that we all have our crosses in life to bear and that I should consider this mine. They felt the risk and recovery from multiple surgery's would not be worth any minimal reward. I was so discouraged and resolved to the fact that there was no choice but to live with this debilitating pain. I didn't want to take pain killers as they would only mask the pain for a short time and I would just have to keep taking them. This was not an option for me. I took Tylenol and tried to aggravate my back as little as possible.
Anyone who has a back injury or chronic pain knows exactly what I'm talking about. You still have to live your daily life in spite of it. I became very depressed believing that this was just how it was going to be.
About three months ago, I began treatment with Dr. David Janerich. He introduced me to new options and procedures which aren't regularly practiced or even recognized in our area that might help with my chronic pain. I figured, what do I have to lose.
After several injection treatments, for the first time in 20+ years I finally have received considerable relief. I am able to perform my normal daily functions with little to no pain. Things that people normally take for granted were now possible. My leg pain is totally gone
now and any back pain I have is minimal. I never thought that this would have been possible for me.
His entire staff have been great. They handled all necessary paperwork and pre-authorizations from the insurance company. They are all compassionate and truly care about their patients.
Dr. Janerich's dedication in helping his patients obtain a life without severe chronic pain is second to none. I would highly recommend that anyone who was in my condition give him the opportunity to use these same procedures and change their lives as well.
—Robert